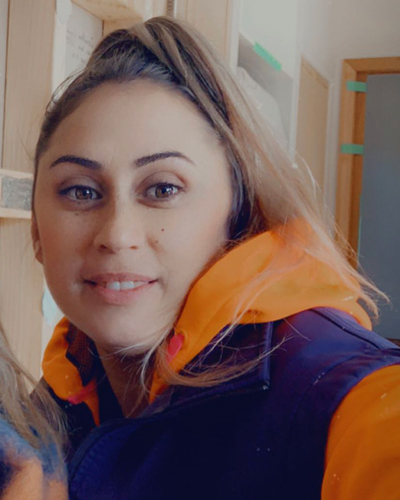 Ko Puhanga Tohora taku Maunga
Ko Ngatokimatawhaorua taku Waka
Ko Mangatawa taku Awa
Ko Ngapuhi taku Iwi
Ko Ngaitu taku Hapu
Ko Otaua taku Papa Kainga
Ko Reihana raua Ko Harris taku Tipuna
Ko Liz taku Ingoa
Liz's hands on tools experience in the building and infrastructure industry dates back roughly 20 years as a Labourer – leaving school at 15.
Liz holds RTW – A heavy machinery licence and is also a Qualified STMS – Site Traffic Management Supervisor which is all about ensuring workers, pedestrians and the traffics Health and Safety by following the New Zealand Code of practice for temporary traffic management (CoPTTM)
Liz has comprehensive experience, from using a measure tape and shovel, to Road Building, Big dig outs, Concreting prep, Traffic Management, Drain Laying, Fence building, home projects, and much more. She often laughs, referring to herself as 'Jackie of all trades, master of none'.
Liz fell into the Specialist Roofing Trade in 2011 through her partner Dan who recognised her hard work ethic. Together they own Stone Roofing Limited in Waikato of which Liz is Operations Manager as well as an installer. Liz is a Qualified Roofer in both Metal Roof Tiles, and Roof and Wall Cladding.
 In 2017 Liz was Awarded the Skills Organisation Roof Trainee of the Year – The first and only female to have ever received this award.
In 2019/2020 Liz was Awarded BCITO & NAWIC Tradeswoman of the Year and was a finalist for the Colorsteel Roofer of the Year Award. Liz is the Waikato Chapter Chair of NAWIC – The National Association of Women in Construction.
Liz is on the Women's Advisory Group for ConCOVE which enables our Wahine voices to be heard – ConCOVE connects and aligns industry, learners and vocational education to re-imagine clear, equitable and supported career pathways within the Construction and Infrastructure sector.
Liz is a firm believer in contributing to society. She is all about working hard, setting examples, having a say, equality, being fair and giving her time to people and causes that help to show off and encourage women in the construction industry.